TENMAT ia a leading manufacturer of specialised, high performance, non-metallic engineering material and components, supplied to a broad cross-section of industrial applications throughout the world.
Maintenance Free Bearing
Sliding, wearing and bearing applications are major business areas for TENMAT, where engineering material such as FEROFORM and FEROGLIDE are world leaders in their field. The FEROFORM and FEROGLIDE ranges offer the designers superb performance in a wide range of industrial applications including cost effective refurbishments.

Pump bearing are a critical applications in many industries including chemical plants, power plants (nuclear, conventional and hydro), fire fighting etc. where reliable operation is essential because the cost of failure is too high. FEROFORM material have proved their durability in these pumps and become the first choice fitment for both OEM and next user refurbishment replacing bronze, lignum vitae, rubber carbon and elastomeric bearings.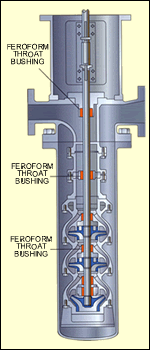 The low swell, low friction, high wear resistance (even in the presence of abrasive particles), dry start ability and process fluid lubrication(water, seawater, chemicals, oil, grease, hydrocarbons etc) are the primary characteristies of FEROFORM bearing materials that contribute to this outstanding performance.
FEROFORM Water Bearing appilications include
Fire fighting & Service Water Pump.
High Pressure bilge Pumps for submarines.
Cooling Water Pumps for Power Stations.
Irrigation & Portable Water Pumps.
High pressure dewatering pumps for underground mines.
Sewage purification plant Pumps.
Vacuum Pump.